Guys, I have included a media player sa portal natin ... hindi sya naka auto play so you have to click play to listen ...

If you have comments or other songs in mind na gusto nyo ilagay, please feel free to send me a message or reply na lang kayo dito sa post na to ...

thanks
_________________
"You were never supposed to mean this much to me. I was never supposed to fall so hard. But you know what?
I did and thatís the truth. Thatís what keeps me holding on because it hurts like hell to let you go.
I was born to tell you I love you And I am torn to do what I have to, to make you mine""I Love you, YOU Who Could Never Be Mine""♫♪ And I Love YOU Still ♪♫"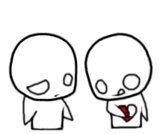 enigma wrote:Guys, I have included a media player sa portal natin ... hindi sya naka auto play so you have to click play to listen ...

If you have comments or other songs in mind na gusto nyo ilagay, please feel free to send me a message or reply na lang kayo dito sa post na to ...

thanks
ang galing galing bossing :D hmmmnn... meron sana ko gusto i-add eh kya lang d ko alam kung paano ko ilalagay hehe

anyways e2 ung mga songs na gusto ko rin sna i-share...
Lword theme song OST - by Betty Wright

Addict - by Fiona Apple

Constant Craving - by KD Lang

Essence - by Lucinda Williams

By your Side

I Kissed a Girl - by Katy Perry

The Promise - by Tracy Chapman

Sun Again - Kinnie Star

Return to Innocense - by Enigma

Boys wanna be Her - by The Peaches

boss elo po..padaan lng po.. suggeat ko lng din po imagine me without you.. maganda din po yan by jackie velasquez yta... kc ganyan po feeling ko s forum imagine me without the forum... sobrang lungkot lng po..
i would like to suggest po ung "questions" by blaque....
wala lng... maganda lng po ung lyrics... more power to LPU!
kudos to the admin and staff of LPU!!!!

---
Permissions in this forum:
You
cannot
reply to topics in this forum