Applicable to all forums members and guests.

The LPU Forum is for discussions about issues and concerns Filipino Lesbians face. Readers are encouraged to contribute to our forum.

Most of our groups are open, and anyone can post their own messages, or reply to those posted by others. There are some exceptions where posting is limited to staff of LPU only. When using our forums, please observe the usual rules of Netiquette, but in particular:

1. Please try to stay on topic messages having some relevance to Lesbian issues are much more likely to be of interest to the people here.

2. When replying to a previous message, only quote as much of the original as necessary. Don't repeat a long message, then put "I agree!" at the bottom... it's hard to read, and slow to download.

3. Bad language or threatening behaviour is not acceptable. Messages containing any language likely to offend other readers will be deleted. This also applies to any postings containing offensive statements relating to sexual orientation, race, religion or other factors having no relevance to the subject.

4. Messages should usually be posted to one group only, and this should be the one appropriate to the subject. Multiple user account registrations by any one user on the same board are not permitted, unless specifically sanctioned by the relevant forum administrator.

5. Language on this forum : When you write in the forum, SMS (cell phone) style message, L3375P34K (leetspeak) and deliberate mistakes must be avoided. Remember, not all members are fond of texting.

6. Commercial postings are not permitted on our forums, or private messaging systems. They are not a depository for press releases, adverts, or any other solicited or unsolicited commercial communication.

7. The Acceptable Use Policy applies both to private messages and forums.

8. You are reminded of the text you agree to when you join a LPU forum.
As part of a precautionary measure (just to make sure that you are not a guy),
we are asking all members to please link your
social networking profiles (FS, MySpace, Facebook, DL, others) in your LPU profile...
this is for the admins to check if you are who you say you are ...
If you are a lipstick lesbian and you do not want your
profiles posted, please PM any of the administrators the link
for us just to check it ...
NOTE: we are not requiring you to accept our invitation
sa FS to add us but please message us (using your FS profile)
that you do not want to be connected with us sa friendster ...
we will respect it ... and your account here will still be active ...
_________________
"You were never supposed to mean this much to me. I was never supposed to fall so hard. But you know what?
I did and thatís the truth. Thatís what keeps me holding on because it hurts like hell to let you go.
I was born to tell you I love you And I am torn to do what I have to, to make you mine""I Love you, YOU Who Could Never Be Mine""♫♪ And I Love YOU Still ♪♫"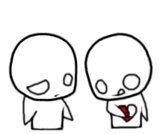 ---
Permissions in this forum:
You
cannot
reply to topics in this forum